OX2A (OX3OX-Ole and OX3LX-Bo)
2007 EME and Es DXpedtion to west Greenland in GRID GP47TA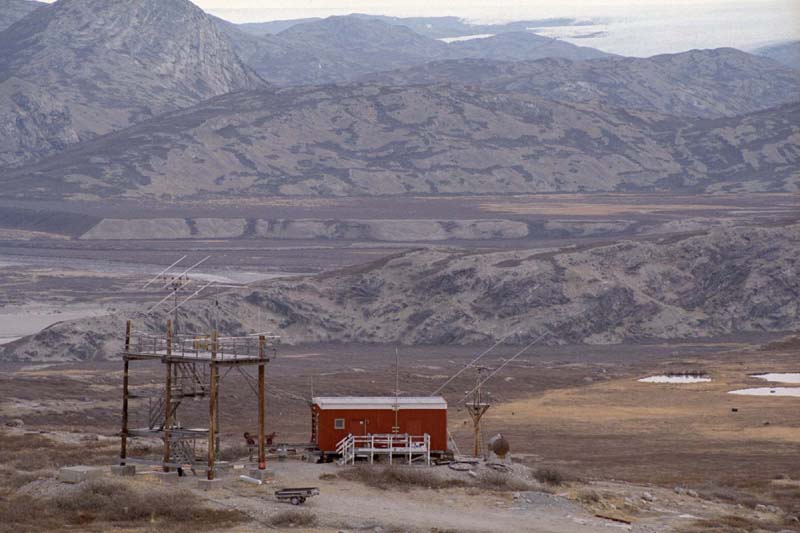 QSL CARD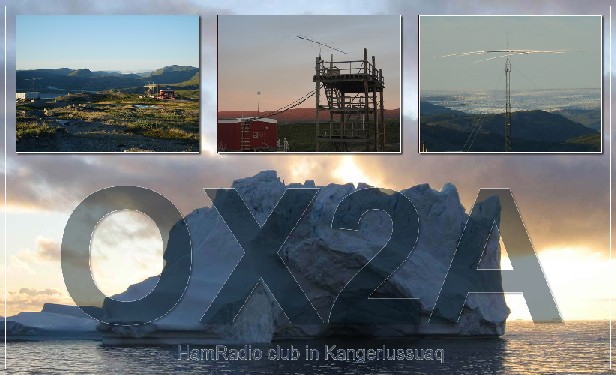 Thanks to OZ0JD for helping to design QSL card
Ole-OX3OX and I-OX3LX plan to be qrv on *2m,4m and 6m from GP47TA (same site as OX2K).
Call will be OX2A or and our OX calls.(OX3OX+OX3LX)

We will try to make some 6m EME and hope for Es Au or AuE on 4,6m
It is a combined work and vacation DXpedtion so don't expect to much.
We have now planned to be QRV from around 9/7 to 17/7 from GP47TA and OX3LX will continue to GP36DW where he will be QRV to the 25/7-2007 on 6m only.

6m:
Rig on 6m TEN TEC ORION and ACOM1000 (1KW), Antenna: 7 elm m2. Mode:CW,SSB WSJT
QRG 50.118 Mhz,(JT65A QRG 50.198 ) we try to have a keyer running as OX2A/b when not qrv 10W SMS +45 22659303

*2m:
*2m IC7000, we have decide not to bring a 2m setup however it will maybe be possible for us to have 170W and a 17elm but depends on time and condx on 6m who is our primaly band
Mode: CW,SSB.WSJT
4m:
Rig 4m FT847+pre.amp 40-80W and a 4 or 5elm, mode CW,SSB WSJT
OX4MB/b will be QRV on 70.012 Mhz (FSK keying) when we not QRV
QRG 70.205 Mhz and Xband QRG 50.185

No sked will be arrange but we will be QRV on chats like ON4KST, NACHAT and EME logger.


After 16/7 to 25/7 OX3LX will continue to GP36DW and be QRV on 6m only with a 5elm M2 and IC7000 100w (maybe ACOM PA)

SMS is sofar +45 22 65 93 03 pse send a SMS if any signs of CONDX.. we will try and update on SHOUTS as things happen so remember to look there!!

Moon View from GP47TA up to 16 deg elevation, during mountains around QTH we need to have 3-5 deg of elevation if QTF is between Az 300-100 deg and maybe some more if QTF is 100-300 deg.
We are not sure if we can make elevation but working on that (maybe manuel elevation if needed)

Time Azim. Elev. W. GHA Decl Dist. DGRD SkyT Elong. Perigee
=============== Moon ================== 10. juli 2007 =======================

18:45:00 292.2° +16.8° - 154.3 +24.0° 368986 19.8 5600K 50° + 4.9d
19:00:00 295.4° +15.5° - 157.9 +24.1° 368994 19.8 5600K 50° + 4.9d
19:15:00 298.5° +14.3° - 161.5 +24.1° 369001 19.8 5600K 49° + 4.9d
19:30:00 301.7° +13.1° - 165.1 +24.1° 369009 19.8 5600K 49° + 4.9d
19:45:00 304.8° +12.0° - 168.7 +24.1° 369017 19.8 5600K 49° + 4.9d
20:00:00 307.9° +10.9° - 172.3 +24.2° 369025 19.8 5600K 49° + 4.9d
20:15:00 311.1° + 9.8° - 175.9 +24.2° 369033 19.8 5600K 49° + 4.9d
20:30:00 314.2° + 8.8° - 179.5 +24.2° 369041 19.9 5600K 49° + 5.0d
20:45:00 317.4° + 7.9° - 183.0 +24.2° 369049 19.9 5600K 49° + 5.0d
21:00:00 320.6° + 7.0° - 186.6 +24.3° 369057 19.9 5600K 48° + 5.0d
21:15:00 323.8° + 6.1° - 190.2 +24.3° 369065 19.9 5600K 48° + 5.0d
21:30:00 326.9° + 5.4° - 193.8 +24.3° 369074 19.9 5600K 48° + 5.0d
21:45:00 330.1° + 4.7° - 197.4 +24.3° 369082 19.9 5600K 48° + 5.0d
22:00:00 333.3° + 4.0° - 200.9 +24.4° 369091 19.9 5600K 48° + 5.0d
22:15:00 336.6° + 3.5° - 204.5 +24.4° 369100 19.9 5600K 48° + 5.0d
Time Azim. Elev. W. GHA Decl Dist. DGRD SkyT Elong. Perigee
=============== Moon ================== 11. juli 2007 =======================
01:30:00 18.7° + 3.1° - 251.0 +24.8° 369221 20.2 6000K 46° + 5.2d
01:45:00 21.9° + 3.6° - 254.5 +24.8° 369231 20.2 6000K 45° + 5.2d
02:00:00 25.1° + 4.2° - 258.1 +24.9° 369241 20.2 6000K 45° + 5.2d
02:15:00 28.2° + 4.9° - 261.7 +24.9° 369251 20.2 6000K 45° + 5.2d
02:30:00 31.4° + 5.6° - 265.3 +24.9° 369261 20.2 6000K 45° + 5.2d
02:45:00 34.6° + 6.4° - 268.8 +25.0° 369271 20.2 6000K 45° + 5.2d
03:00:00 37.7° + 7.3° - 272.4 +25.0° 369282 20.2 6000K 45° + 5.2d
03:15:00 40.9° + 8.2° - 276.0 +25.1° 369292 20.2 6000K 44° + 5.2d
03:30:00 44.0° + 9.2° - 279.6 +25.1° 369303 20.2 6000K 44° + 5.2d
03:45:00 47.1° +10.2° - 283.2 +25.1° 369313 20.1 6000K 44° + 5.3d
04:00:00 50.2° +11.3° - 286.7 +25.2° 369324 20.1 6000K 44° + 5.3d
04:15:00 53.3° +12.4° - 290.3 +25.2° 369335 20.1 6000K 44° + 5.3d
04:30:00 56.4° +13.6° - 293.9 +25.2° 369346 20.1 6000K 44° + 5.3d
04:45:00 59.5° +14.8° - 297.5 +25.3° 369357 20.1 6000K 43° + 5.3d
05:00:00 62.6° +16.1° - 301.1 +25.3° 369368 20.1 6000K 43° + 5.3d
20:15:00 299.3° +16.8° - 161.3 +26.7° 370220 20.2 6000K 36° + 5.9d
20:30:00 302.4° +15.6° - 164.8 +26.7° 370236 20.2 6000K 35° + 6.0d
20:45:00 305.5° +14.5° - 168.4 +26.7° 370253 20.2 6000K 35° + 6.0d
21:00:00 308.6° +13.3° - 172.0 +26.7° 370270 20.2 6000K 35° + 6.0d
21:15:00 311.7° +12.3° - 175.6 +26.7° 370287 20.2 6000K 35° + 6.0d
21:30:00 314.8° +11.3° - 179.2 +26.7° 370305 20.2 6000K 35° + 6.0d
21:45:00 317.9° +10.3° - 182.7 +26.7° 370322 20.2 6000K 35° + 6.0d
22:00:00 321.0° + 9.4° - 186.3 +26.7° 370339 20.2 6000K 35° + 6.0d
22:15:00 324.1° + 8.6° - 189.9 +26.7° 370357 20.2 6000K 34° + 6.0d
22:30:00 327.2° + 7.8° - 193.5 +26.7° 370374 20.2 6000K 34° + 6.0d
22:45:00 330.4° + 7.1° - 197.0 +26.8° 370392 20.2 6000K 34° + 6.0d
23:00:00 333.5° + 6.4° - 200.6 +26.8° 370410 20.2 6000K 34° + 6.1d
23:15:00 336.7° + 5.8° - 204.2 +26.8° 370428 20.2 6000K 34° + 6.1d
23:30:00 339.8° + 5.3° - 207.7 +26.8° 370445 20.2 6000K 34° + 6.1d
23:45:00 343.0° + 4.9° - 211.3 +26.8° 370463 20.2 6000K 33° + 6.1d
Time Azim. Elev. W. GHA Decl Dist. DGRD SkyT Elong. Perigee
=============== Moon ================== 12. juli 2007 =======================
00:00:00 346.2° + 4.5° - 214.9 +26.8° 370482 20.2 6000K 33° + 6.1d
00:15:00 349.3° + 4.3° - 218.4 +26.8° 370500 20.2 6000K 33° + 6.1d
00:30:00 352.5° + 4.1° - 222.0 +26.8° 370518 20.3 6100K 33° + 6.1d
00:45:00 355.7° + 3.9° - 225.6 +26.8° 370537 20.3 6100K 33° + 6.1d
01:00:00 358.9° + 3.9° - 229.1 +26.8° 370555 20.3 6100K 33° + 6.1d
01:15:00 2.1° + 3.9° - 232.7 +26.9° 370574 20.3 6100K 32° + 6.1d
01:30:00 5.3° + 4.0° - 236.3 +26.9° 370592 20.3 6100K 32° + 6.2d
01:45:00 8.5° + 4.2° - 239.8 +26.9° 370611 20.3 6100K 32° + 6.2d
02:00:00 11.6° + 4.4° - 243.4 +26.9° 370630 20.3 6100K 32° + 6.2d
02:15:00 14.8° + 4.8° - 247.0 +26.9° 370649 20.3 6100K 32° + 6.2d
02:30:00 18.0° + 5.2° - 250.5 +26.9° 370668 20.3 6100K 32° + 6.2d
02:45:00 21.1° + 5.7° - 254.1 +26.9° 370687 20.3 6100K 31° + 6.2d
03:00:00 24.3° + 6.2° - 257.7 +27.0° 370706 20.3 6100K 31° + 6.2d
03:15:00 27.4° + 6.8° - 261.3 +27.0° 370726 20.3 6100K 31° + 6.2d
03:30:00 30.6° + 7.5° - 264.8 +27.0° 370745 20.3 6100K 31° + 6.2d
03:45:00 33.7° + 8.3° - 268.4 +27.0° 370765 20.3 6100K 31° + 6.3d
04:00:00 36.8° + 9.1° - 272.0 +27.0° 370784 20.3 6100K 31° + 6.3d
04:15:00 39.9° +10.0° - 275.5 +27.0° 370804 20.3 6100K 31° + 6.3d
04:30:00 43.0° +10.9° - 279.1 +27.1° 370824 20.3 6100K 30° + 6.3d
04:45:00 46.1° +11.9° - 282.7 +27.1° 370844 20.3 6100K 30° + 6.3d
05:00:00 49.2° +13.0° - 286.3 +27.1° 370864 20.3 6100K 30° + 6.3d
05:15:00 52.2° +14.1° - 289.8 +27.1° 370884 20.3 6100K 30° + 6.3d
05:30:00 55.3° +15.2° - 293.4 +27.1° 370904 20.3 6100K 30° + 6.3d
05:45:00 58.4° +16.4° - 297.0 +27.2° 370924 20.3 6100K 30° + 6.3d
21:30:00 302.1° +16.4° - 164.2 +27.3° 372386 20.3 6100K 22° + 7.0d
21:45:00 305.2° +15.2° - 167.8 +27.3° 372413 20.3 6100K 22° + 7.0d
22:00:00 308.2° +14.1° - 171.4 +27.3° 372439 20.3 6100K 21° + 7.0d
22:15:00 311.3° +13.0° - 174.9 +27.3° 372465 20.4 6100K 21° + 7.0d
22:30:00 314.4° +11.9° - 178.5 +27.2° 372492 20.4 6100K 21° + 7.0d
22:45:00 317.5° +11.0° - 182.1 +27.2° 372518 20.4 6100K 21° + 7.0d
23:00:00 320.6° +10.0° - 185.7 +27.2° 372545 20.4 6100K 21° + 7.1d
23:15:00 323.7° + 9.2° - 189.2 +27.2° 372571 20.4 6100K 21° + 7.1d
23:30:00 326.8° + 8.4° - 192.8 +27.2° 372598 20.3 6000K 20° + 7.1d
23:45:00 329.9° + 7.6° - 196.4 +27.2° 372625 20.3 6000K 20° + 7.1d
Time Azim. Elev. W. GHA Decl Dist. DGRD SkyT Elong. Perigee
=============== Moon ================== 13. juli 2007 =======================
00:00:00 333.0° + 6.9° - 200.0 +27.2° 372652 20.3 6000K 20° + 7.1d
00:15:00 336.2° + 6.3° - 203.5 +27.2° 372679 20.3 6000K 20° + 7.1d
00:30:00 339.3° + 5.8° - 207.1 +27.1° 372706 20.3 6000K 20° + 7.1d
00:45:00 342.5° + 5.3° - 210.7 +27.1° 372733 20.3 6000K 20° + 7.1d
01:00:00 345.6° + 4.9° - 214.2 +27.1° 372761 20.3 6000K 19° + 7.1d
01:15:00 348.8° + 4.6° - 217.8 +27.1° 372788 20.3 6000K 19° + 7.1d
01:30:00 352.0° + 4.4° - 221.4 +27.1° 372816 20.3 6000K 19° + 7.2d
01:45:00 355.2° + 4.2° - 224.9 +27.1° 372843 20.3 6000K 19° + 7.2d
02:00:00 358.3° + 4.1° - 228.5 +27.1° 372871 20.3 6000K 19° + 7.2d
02:15:00 1.5° + 4.1° - 232.1 +27.1° 372899 20.3 6000K 19° + 7.2d
02:30:00 4.7° + 4.2° - 235.7 +27.1° 372926 20.3 6000K 19° + 7.2d
02:45:00 7.9° + 4.3° - 239.2 +27.1° 372954 20.4 6000K 18° + 7.2d
03:00:00 11.1° + 4.5° - 242.8 +27.1° 372982 20.4 6000K 18° + 7.2d
03:15:00 14.3° + 4.8° - 246.4 +27.1° 373011 20.4 6000K 18° + 7.2d
03:30:00 17.4° + 5.2° - 249.9 +27.0° 373039 20.3 6000K 18° + 7.2d
03:45:00 20.6° + 5.7° - 253.5 +27.0° 373067 20.3 6000K 18° + 7.3d
04:00:00 23.7° + 6.2° - 257.1 +27.0° 373095 20.3 6000K 18° + 7.3d
04:15:00 26.9° + 6.8° - 260.6 +27.0° 373124 20.3 6000K 17° + 7.3d
04:30:00 30.0° + 7.4° - 264.2 +27.0° 373152 20.3 6000K 17° + 7.3d
04:45:00 33.1° + 8.2° - 267.8 +27.0° 373181 20.3 6000K 17° + 7.3d
05:00:00 36.3° + 9.0° - 271.4 +27.0° 373210 20.3 6000K 17° + 7.3d
05:15:00 39.4° + 9.8° - 274.9 +27.0° 373239 20.3 6000K 17° + 7.3d
05:30:00 42.5° +10.7° - 278.5 +27.0° 373268 20.3 6000K 17° + 7.3d
05:45:00 45.6° +11.7° - 282.1 +27.0° 373297 20.3 6000K 17° + 7.3d
06:00:00 48.7° +12.7° - 285.7 +27.0° 373326 20.3 6000K 16° + 7.3d
06:15:00 51.8° +13.8° - 289.3 +27.0° 373355 20.3 6000K 16° + 7.4d
06:30:00 54.8° +14.9° - 292.8 +27.0° 373384 20.3 6000K 16° + 7.4d
06:45:00 57.9° +16.1° - 296.4 +27.0° 373413 20.3 6000K 16° + 7.4d
22:15:00 298.2° +16.5° - 160.3 +26.0° 375401 20.4 6000K 8° + 8.0d
22:30:00 301.3° +15.2° - 163.9 +25.9° 375436 19.8 5200K 8° + 8.0d
22:45:00 304.4° +14.0° - 167.5 +25.9° 375471 19.8 5200K 8° + 8.0d
23:00:00 307.5° +12.8° - 171.1 +25.9° 375506 19.8 5200K 8° + 8.1d
23:15:00 310.6° +11.7° - 174.6 +25.8° 375541 19.8 5200K 8° + 8.1d
23:30:00 313.7° +10.7° - 178.2 +25.8° 375576 19.8 5200K 8° + 8.1d
23:45:00 316.8° + 9.6° - 181.8 +25.8° 375611 19.8 5200K 8° + 8.1d
Time Azim. Elev. W. GHA Decl Dist. DGRD SkyT Elong. Perigee
=============== Moon ================== 14. juli 2007 =======================
00:00:00 319.9° + 8.7° - 185.4 +25.7° 375646 19.9 5200K 7° + 8.1d
00:15:00 323.0° + 7.8° - 189.0 +25.7° 375681 19.9 5200K 7° + 8.1d
00:30:00 326.2° + 6.9° - 192.6 +25.7° 375716 19.9 5200K 7° + 8.1d
00:45:00 329.3° + 6.2° - 196.1 +25.6° 375752 19.9 5200K 7° + 8.1d
01:00:00 332.5° + 5.5° - 199.7 +25.6° 375787 19.9 5200K 7° + 8.1d
01:15:00 335.7° + 4.8° - 203.3 +25.6° 375823 19.9 5200K 7° + 8.1d
01:30:00 338.9° + 4.2° - 206.9 +25.6° 375858 19.9 5200K 7° + 8.2d
01:45:00 342.1° + 3.8° - 210.4 +25.5° 375894 19.9 5200K 6° + 8.2d
02:00:00 345.3° + 3.3° - 214.0 +25.5° 375930 19.9 5200K 6° + 8.2d
04:15:00 14.3° + 3.0° - 246.2 +25.3° 376256 19.9 5200K 5° + 8.3d
04:30:00 17.5° + 3.4° - 249.8 +25.2° 376292 19.9 5200K 5° + 8.3d
04:45:00 20.7° + 3.8° - 253.4 +25.2° 376329 19.9 5200K 5° + 8.3d
05:00:00 24.0° + 4.4° - 256.9 +25.2° 376366 19.9 5200K 5° + 8.3d
05:15:00 27.2° + 4.9° - 260.5 +25.2° 376403 19.9 5200K 5° + 8.3d
05:30:00 30.3° + 5.6° - 264.1 +25.1° 376439 19.9 5200K 4° + 8.3d
05:45:00 33.5° + 6.3° - 267.7 +25.1° 376476 19.9 5200K 4° + 8.3d
06:00:00 36.7° + 7.1° - 271.3 +25.1° 376513 19.9 5200K 4° + 8.3d
06:15:00 39.9° + 7.9° - 274.9 +25.1° 376551 19.9 5200K 4° + 8.4d
06:30:00 43.0° + 8.8° - 278.4 +25.1° 376588 19.9 5200K 4° + 8.4d
06:45:00 46.1° + 9.8° - 282.0 +25.0° 376625 19.9 5200K 4° + 8.4d
07:00:00 49.3° +10.8° - 285.6 +25.0° 376662 19.9 5200K 4° + 8.4d
07:15:00 52.4° +11.9° - 289.2 +25.0° 376700 19.9 5200K 4° + 8.4d
07:30:00 55.6° +13.0° - 292.8 +25.0° 376737 19.9 5200K 4° + 8.4d
07:45:00 58.7° +14.2° - 296.4 +25.0° 376775 19.9 5200K 4° + 8.4d
08:00:00 61.8° +15.4° - 300.0 +24.9° 376812 19.9 5200K 3° + 8.4d
08:15:00 65.0° +16.6° - 303.6 +24.9° 376850 19.9 5200K 3° + 8.4d
22:45:00 291.1° +16.1° - 153.6 +23.0° 379159 19.4 4500K 6° + 9.0d
23:00:00 294.3° +14.7° - 157.2 +22.9° 379200 19.4 4500K 6° + 9.1d
23:15:00 297.4° +13.4° - 160.8 +22.9° 379242 19.4 4500K 6° + 9.1d
23:30:00 300.6° +12.1° - 164.4 +22.8° 379284 19.4 4500K 6° + 9.1d
23:45:00 303.7° +10.9° - 168.0 +22.8° 379326 19.4 4500K 6° + 9.1d
Time Azim. Elev. W. GHA Decl Dist. DGRD SkyT Elong. Perigee
=============== Moon ================== 15. juli 2007 =======================
00:00:00 306.9° + 9.7° - 171.6 +22.7° 379368 19.4 4500K 6° + 9.1d
00:15:00 310.0° + 8.6° - 175.2 +22.7° 379410 19.4 4500K 7° + 9.1d
00:30:00 313.2° + 7.5° - 178.8 +22.6° 379452 19.4 4500K 7° + 9.1d
00:45:00 316.4° + 6.4° - 182.4 +22.6° 379494 19.4 4500K 7° + 9.1d
01:00:00 319.6° + 5.4° - 186.0 +22.5° 379537 19.4 4500K 7° + 9.1d
01:15:00 322.8° + 4.5° - 189.6 +22.5° 379579 19.5 4500K 7° + 9.1d
01:30:00 326.0° + 3.7° - 193.2 +22.4° 379621 19.5 4500K 7° + 9.2d
06:45:00 35.2° + 3.1° - 268.6 +21.6° 380525 19.5 4500K 10° + 9.4d
07:00:00 38.4° + 3.9° - 272.2 +21.5° 380568 19.5 4500K 11° + 9.4d
07:15:00 41.7° + 4.7° - 275.8 +21.5° 380612 19.5 4500K 11° + 9.4d
07:30:00 44.9° + 5.7° - 279.4 +21.5° 380656 19.5 4500K 11° + 9.4d
07:45:00 48.1° + 6.7° - 283.0 +21.4° 380699 19.5 4500K 11° + 9.4d
08:00:00 51.3° + 7.7° - 286.6 +21.4° 380743 19.5 4500K 11° + 9.4d
08:15:00 54.5° + 8.8° - 290.2 +21.4° 380787 19.5 4500K 11° + 9.4d
08:30:00 57.7° + 9.9° - 293.8 +21.3° 380831 19.5 4500K 11° + 9.5d
08:45:00 60.9° +11.1° - 297.4 +21.3° 380875 19.5 4500K 12° + 9.5d
09:00:00 64.1° +12.3° - 301.0 +21.3° 380919 19.5 4500K 12° + 9.5d
09:15:00 67.3° +13.6° - 304.6 +21.2° 380963 19.5 4500K 12° + 9.5d
09:30:00 70.6° +14.8° - 308.2 +21.2° 381008 19.5 4500K 12° + 9.5d
09:45:00 73.8° +16.2° - 311.8 +21.2° 381052 19.5 4500K 12° + 9.5d
23:00:00 281.2° +15.6° A 144.5 +18.7° 383462 19.6 4500K 18° +10.1d
23:15:00 284.5° +14.2° A 148.1 +18.6° 383508 19.6 4500K 18° +10.1d
23:30:00 287.7° +12.7° A 151.7 +18.6° 383555 19.6 4500K 18° +10.1d
23:45:00 290.9° +11.4° A 155.3 +18.5° 383602 19.6 4500K 18° +10.1d
Time Azim. Elev. W. GHA Decl Dist. DGRD SkyT Elong. Perigee
=============== Moon ================== 16. juli 2007 =======================
00:00:00 294.1° +10.0° - 158.9 +18.5° 383648 19.6 4500K 19° +10.1d
00:15:00 297.3° + 8.7° - 162.6 +18.4° 383695 19.6 4500K 19° +10.1d
00:30:00 300.5° + 7.4° - 166.2 +18.4° 383742 19.6 4500K 19° +10.1d
00:45:00 303.7° + 6.1° - 169.8 +18.3° 383789 19.6 4500K 19° +10.1d
01:00:00 306.9° + 4.9° - 173.4 +18.3° 383836 19.2 4000K 19° +10.1d
01:15:00 310.2° + 3.8° - 177.0 +18.2° 383882 19.2 4000K 19° +10.1d
09:00:00 54.9° + 3.9° - 288.8 +16.6° 385350 19.2 4000K 24° +10.5d
09:15:00 58.2° + 5.0° - 292.4 +16.6° 385398 19.2 4000K 24° +10.5d
09:30:00 61.4° + 6.2° - 296.0 +16.5° 385445 19.2 4000K 24° +10.5d
09:45:00 64.7° + 7.4° - 299.6 +16.5° 385493 19.2 4000K 24° +10.5d
10:00:00 68.0° + 8.6° - 303.2 +16.4° 385541 19.2 4000K 24° +10.5d
10:15:00 71.3° + 9.9° - 306.9 +16.4° 385589 19.2 4000K 25° +10.5d
10:30:00 74.5° +11.2° - 310.5 +16.3° 385637 19.2 4000K 25° +10.5d
10:45:00 77.8° +12.6° - 314.1 +16.3° 385685 19.2 4000K 25° +10.5d
11:00:00 81.1° +13.9° - 317.7 +16.2° 385733 19.2 4000K 25° +10.6d
11:15:00 84.4° +15.3° - 321.4 +16.2° 385780 19.2 4000K 25° +10.6d
11:30:00 87.8° +16.6° - 325.0 +16.2° 385828 19.2 4000K 25° +10.6d
22:45:00 265.1° +17.0° N 129.1 +13.7° 388000 19.2 3900K 30° +11.0d
23:00:00 268.4° +15.5° A 132.8 +13.6° 388049 19.2 3900K 30° +11.1d
23:15:00 271.8° +14.0° A 136.4 +13.6° 388097 19.2 3900K 30° +11.1d
23:30:00 275.1° +12.6° A 140.0 +13.5° 388146 19.2 3900K 30° +11.1d
23:45:00 278.3° +11.1° A 143.7 +13.5° 388194 19.2 3900K 31° +11.1d
Time Azim. Elev. W. GHA Decl Dist. DGRD SkyT Elong. Perigee
=============== Moon ================== 17. juli 2007 =======================
00:00:00 281.6° + 9.6° A 147.3 +13.4° 388243 19.2 3900K 31° +11.1d
00:15:00 284.9° + 8.2° A 150.9 +13.3° 388291 19.2 3900K 31° +11.1d
00:30:00 288.2° + 6.8° A 154.6 +13.3° 388339 19.2 3900K 31° +11.1d
00:45:00 291.4° + 5.4° A 158.2 +13.2° 388388 19.3 3900K 31° +11.1d
01:00:00 294.7° + 4.0° - 161.8 +13.1° 388436 19.3 3900K 31° +11.1d
10:45:00 69.8° + 3.4° - 302.9 +10.9° 390322 19.4 3900K 37° +11.5d
11:00:00 73.1° + 4.7° - 306.5 +10.9° 390370 19.3 3900K 37° +11.6d
11:15:00 76.4° + 6.0° - 310.2 +10.8° 390418 19.3 3900K 37° +11.6d
11:30:00 79.8° + 7.4° - 313.8 +10.8° 390466 19.3 3900K 37° +11.6d
11:45:00 83.1° + 8.7° - 317.5 +10.7° 390514 19.3 3900K 37° +11.6d
12:00:00 86.5° +10.1° - 321.1 +10.7° 390562 19.3 3900K 37° +11.6d
12:15:00 89.8° +11.4° - 324.7 +10.6° 390610 19.3 3900K 37° +11.6d
12:30:00 93.2° +12.8° - 328.4 +10.5° 390658 19.3 3900K 38° +11.6d
12:45:00 96.6° +14.2° - 332.0 +10.5° 390707 19.3 3900K 38° +11.6d
13:00:00 100.0° +15.5° - 335.7 +10.4° 390754 19.3 3900K 38° +11.6d
13:15:00 103.5° +16.9° - 339.3 +10.4° 390802 19.3 3900K 38° +11.6d
22:45:00 252.6° +16.0° N 118.3 + 8.1° 392607 19.4 3900K 42° +12.0d
23:00:00 256.1° +14.6° N 122.0 + 8.1° 392653 19.4 3900K 42° +12.1d
23:15:00 259.5° +13.1° N 125.6 + 8.0° 392700 19.4 3900K 42° +12.1d
23:30:00 262.9° +11.6° N 129.3 + 7.9° 392747 19.4 3900K 42° +12.1d
23:45:00 266.2° +10.2° N 132.9 + 7.9° 392794 19.4 3900K 42° +12.1d